Shave Before a Tattoo?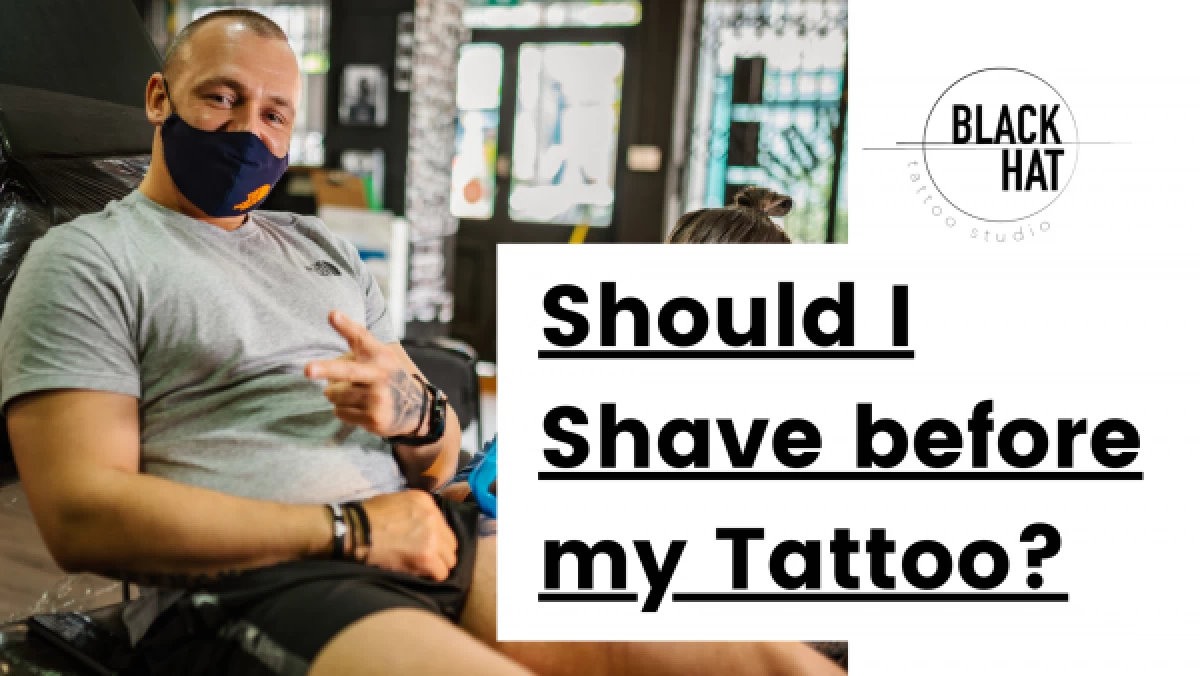 Want to know if you should shave the area to be tattooed prior to your body modification appointment? Then this article is for you.
We've focused on the importance of removing body hair before you get a tattoo and all questions are helpfully answered by two of our artists – Thais and Sergy.
Why Should I Shave Before a Tattoo?
Why should I shave before a Tattoo? Tattoos are made using the application of ink with a needle inside the second top layer of your skin. While tattoos are not a medical procedure, it is necessary to have a clear and clean zone as much as we possibly can before starting the inking process.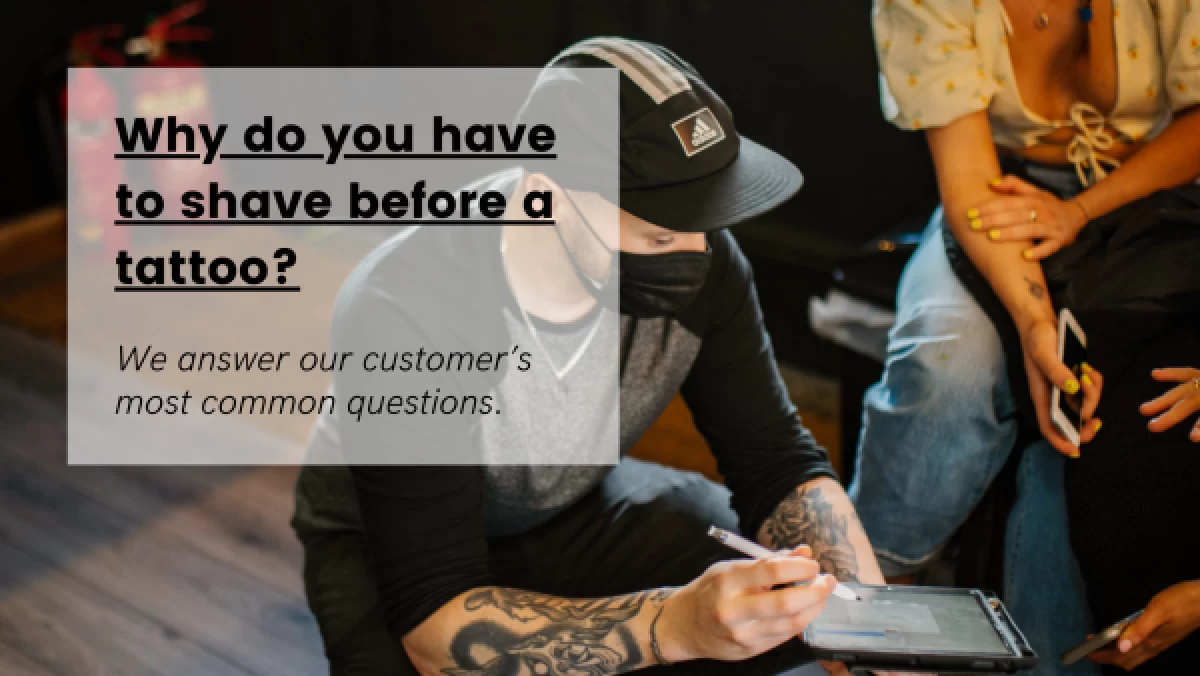 Shaving the area to be tattooed is mandatory before the ink application because we need to ensure there is no visible or invisible hairs between the needle and the top layer of the skin.
Shaving helps the tattooist to perform a precise and beautiful artwork. Moreover, it ensures that the pigment used will last over time. We hope we helped you to understand more why you should shave before getting inked.
When should I shave before a tattoo?
This is a great question. Particularly as tattoos can be applied to almost every part of the body.
While of course, every person is unique in the amount of body hair they have. What we can say is that shaving the area definitely makes it easier for the tattooist.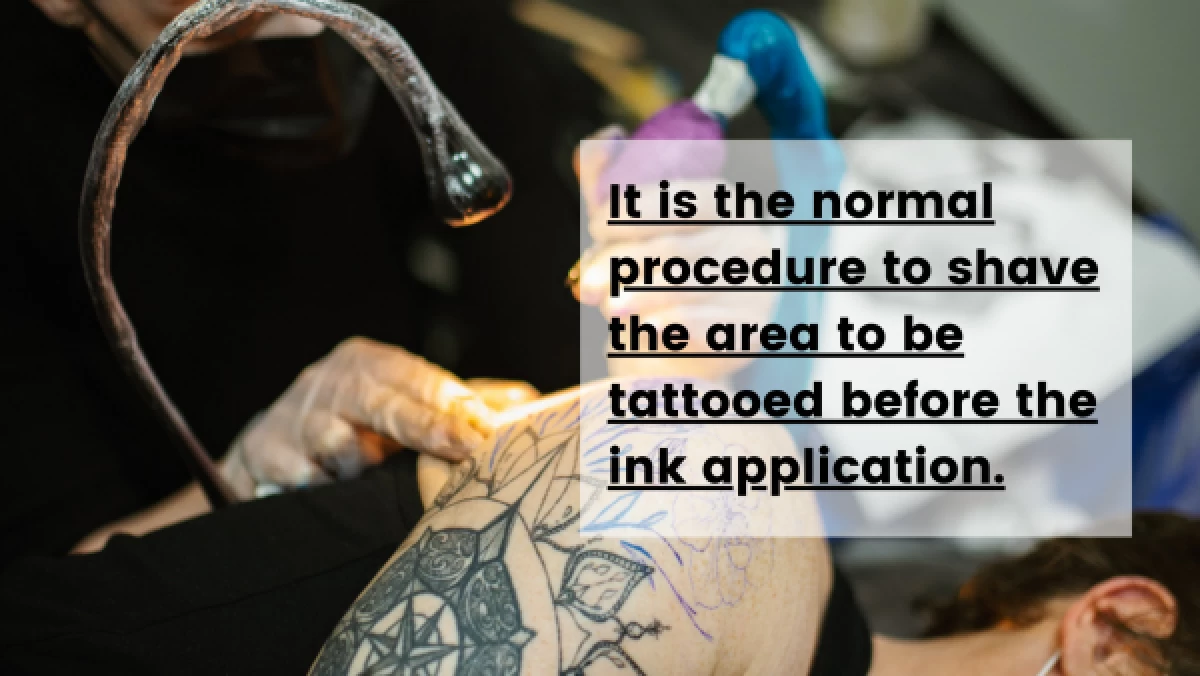 But shaving is not mandatory for you to do it yourself as we can do it here prior to the tattoo. It is the normal procedure to shave the area to be tattooed before the ink application.
Artists are trained in that way, and preparation of the body is an essential skill to be mastered during the apprenticeship.
The more precise and intricate the work you'll need done the more necessary it will be to shave, as this will ensure the pigment will last over time.
How soon before the tattoo should I shave?
The best time to shave is around one day before the appointment if you wish to do it yourself. That means the space will be perfectly smooth and the hair won't have had the chance to grow back.
Of course, if the area is going to be hairless already like your ribs or hips, there will be no need to shave. So, should I shave before a tattoo? It is a tricky question that is deeply personal. It's a personal choice.
In the studio, the right time to shave is right before the tattoo session. The artist will usually set up its station and material beforehand. After setting up everything with you such as the design and the place on your body, the artist will install you on the chair and then shave the area with a brand-new razor.
Is it easier if you do the hair removal or me?
If you have time to do it or are happier to do it then you should. Women tend to wax during their everyday lives anyway and men would be advised to shave any area too.
So, it's really whatever you feel like beforehand. We will manage the process to ensure the area we are doing is perfectly prepared before we start.
Do not feel ashamed if you haven't shaved or if you have hairs in the area to be tattooed. If you are unsure, it is better that you let the professionals do it at the shop. They are qualified to do it, and it's no bother for them to help you prepare your body for the tattoo.
Will the hair grow back on the tattoo afterwards? Or will it leave any scars?
Yes, you don't need to worry about losing your hair permanently. The hair will grow back very well, it will usually take 2 weeks and there will be no scarring at all.
Everything will be normal after the session if you take good care and hydration. Once you have your new ink, the next part of the job is yours. Check our aftercare recommendations for more information about taking care of your fresh ink.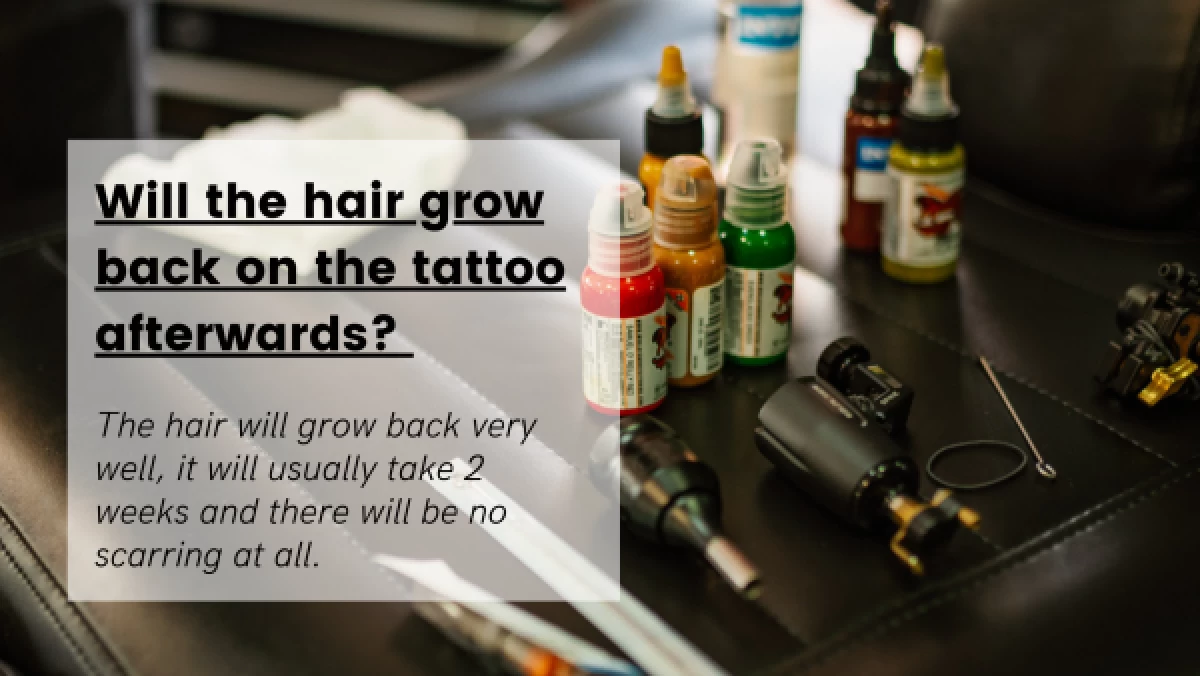 When it comes to scars, many of our customers are wondering if your ink will cover stretch marks or scars. We covered these topics in earlier posts, and we are proud to be collaborating with highly qualified professionals when it comes to our artists.
I'm not a shaver, I'm a waxer – is that okay?
Yes, that's fine we can work with waxed areas if that's what your preference is. It does depend on the sensitivity of each person. Some people are more sensitive to razors and others to hair removal. If your body is prone to react to make-up, cosmetic treatments, creams or sun
So the only thing that could make the experience a little more unpleasant is your sensitivity. For example, if you are sensitive to waxing and getting needlework the next day it may not help, so you may want to watch that.
What about laser hair removal? Is that okay?
Laser hair removal is not the best for getting a tattoo because it makes the skin more sensitive and therefore more vulnerable to the needle.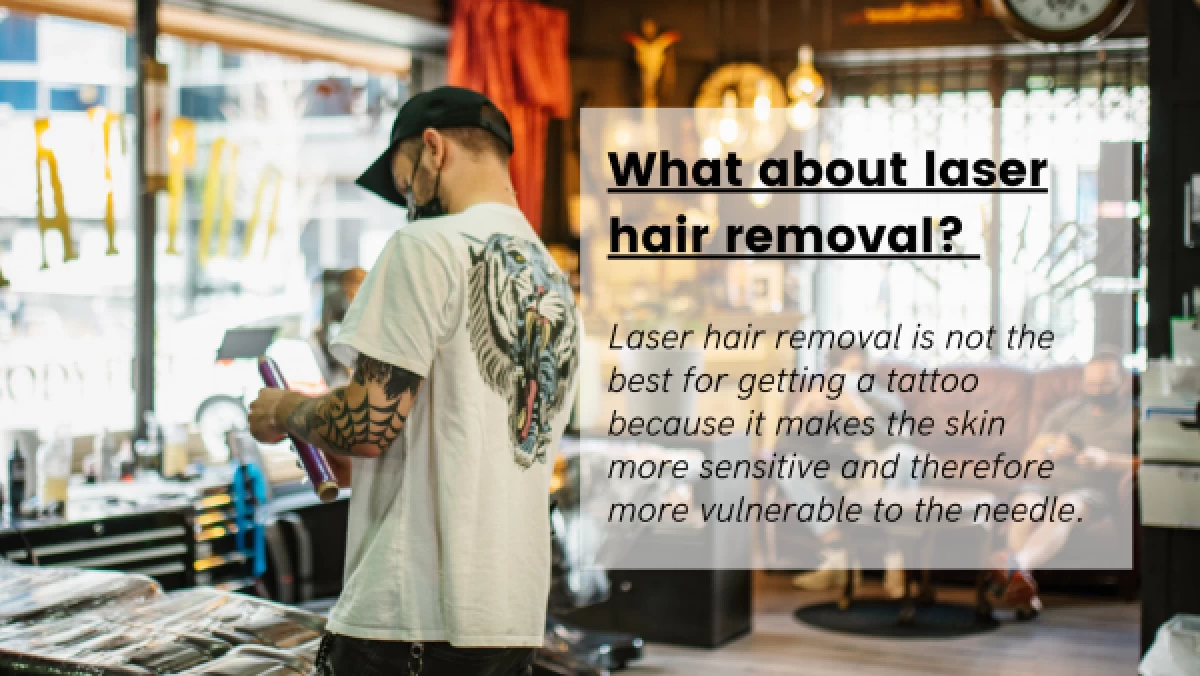 However, because laser removal is often done on a long-term basis you should plan your session well in advance of getting a tattoo. That way you can avoid damaging your skin by having laser treatment too close to your session.
If in doubt, ask our team what would work best to prepare your time in the studio.
Which hair removal is least recommended before getting a tattoo?
It depends on each person – and how sensitive their skin is to razors, wax or chemicals. But overall laser treatment is generally harder on the skin – though fine if well in advance. So, go with the one that is kindest to your body.
If I'm getting laser hair removal, how long before my tattoo should I do it?
If you've booked your appointment after your hair removal then you shouldn't wait so long that your hair is growing back. But you should also not come in too soon, especially if your skin is still sensitive.
We advise you to wait a few days or weeks after the hair removal appointment. But everyone is different, so we can't give the same timeframe for all. There's a good chance you'll know from your previous experience of getting laser treatment how long you should wait. So, listen to what your body is telling you.
I haven't tried waxing but if it's better for tattoo preparation, should I do it?
Waxing in general is better for tattooing because it removes all the hair deep down. But if you've never done it before you won't know how sensitive your skin will be.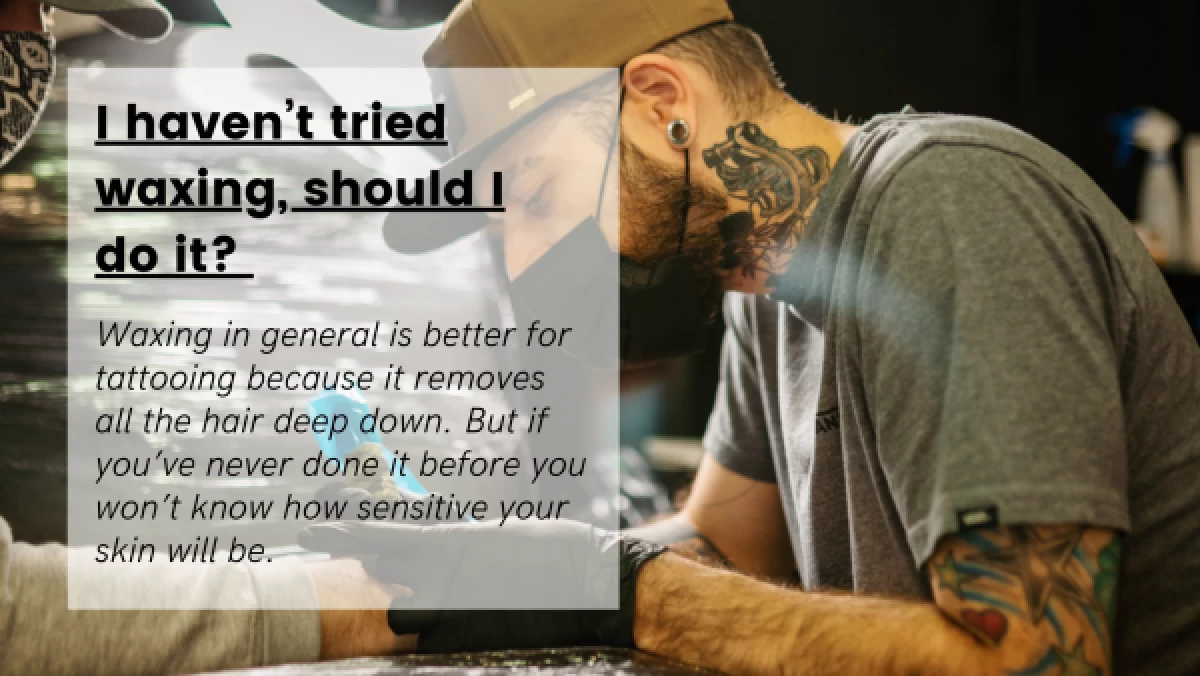 Therefore, it's important to organize yourself in a way that will give you time to recover before getting inked.
Be sure to be well-rested, to allow your body to recover from the treatment before getting the skin under pressure again. Tattooing is a non-medical procedure, but it will still require your body to absorb ink. For the best results, respect your body.
Got more questions?
We hope this gives you all the information you needed around removing body hair in the area you are getting a new tattoo. If there's something in particular we haven't covered, we'll be more than happy to discuss that with you.