Animal Tattoos: Exploring Your Wild Side
Welcome to the fascinating world of animal tattoos! From majestic lions to graceful hummingbirds, animal designs have captured the imagination of tattoo enthusiasts for ages. In this article, we will embark on an exciting journey through the animal kingdom, exploring the symbolism, popular choices, and creative possibilities of animal-themed tattoos. So, let your wild side roam free as we delve into this captivating art form!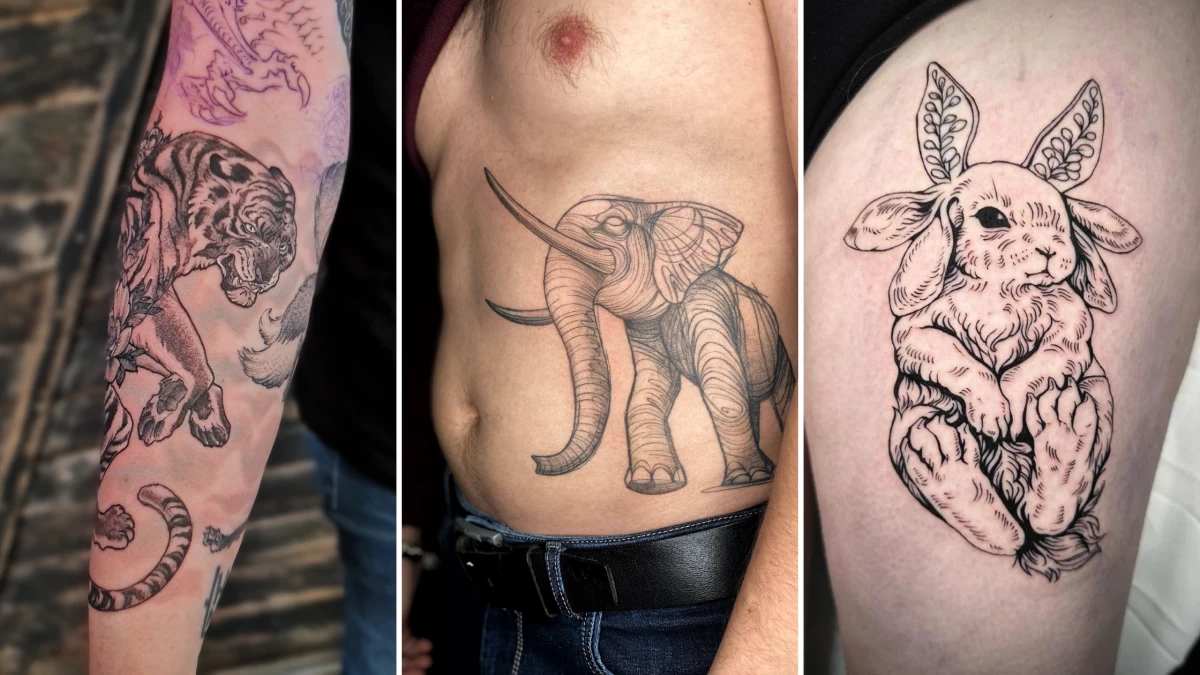 The Power of Animal Symbolism Tattoos
Animals have long held symbolic meanings across different cultures and belief systems. In tattoos, animal designs often embody specific qualities and characteristics associated with the creature. For example:
The lion represents strength, courage, and leadership.

The owl symbolizes wisdom, intuition, and knowledge.

The butterfly signifies transformation, freedom, and beauty.
Animal-themed tattoos allow one to express one's connection with nature, embody personal traits, or pay homage to a beloved creature. The symbolism behind these designs adds depth and significance to the art, making it an even more meaningful and personal choice.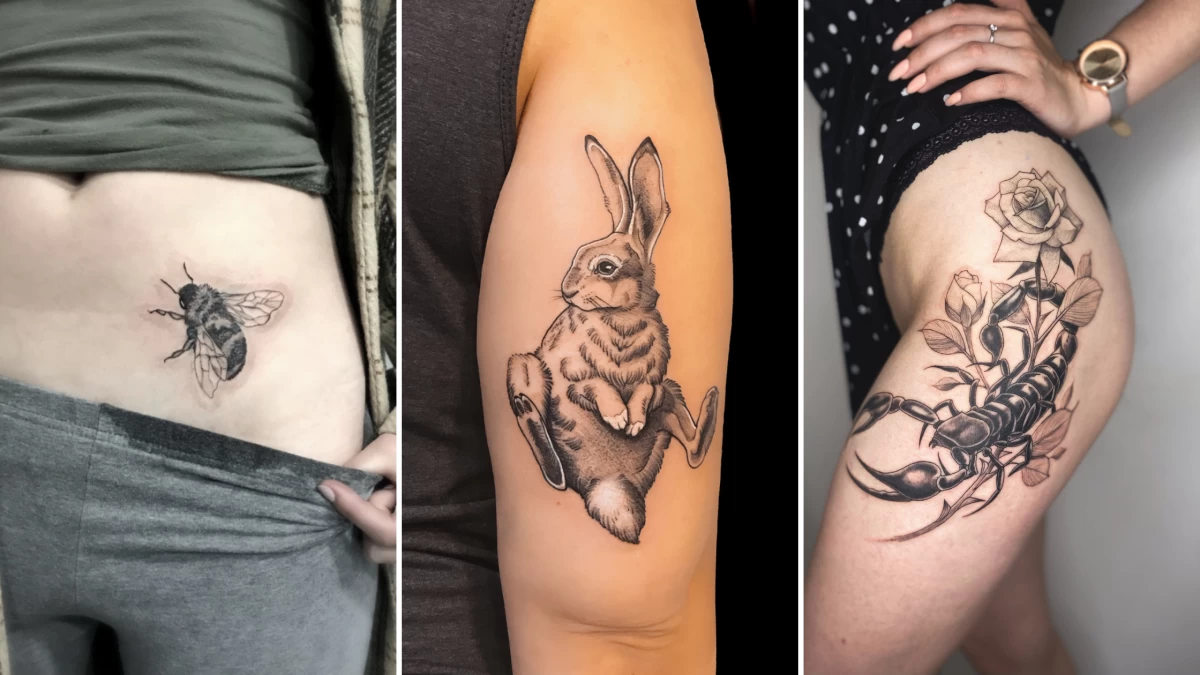 Most Popular Animal Tattoo Designs
Animals often carry deep symbolic meanings and associations. Some animals represent qualities that people admire or aspire to possess, such as strength, courage, wisdom, or loyalty. Animals like lions, wolves, eagles, and owls are frequently chosen for their symbolic significance, and their tattoos can serve as powerful representations of personal traits or ideals.
Some animal tattoos are simply visually striking and aesthetically pleasing. Certain animals have unique and captivating features that make them visually appealing as tattoo designs. Creatures like tigers, elephants, snakes, and birds offer intricate patterns, bold colors, and dynamic poses that can result in visually stunning tattoos.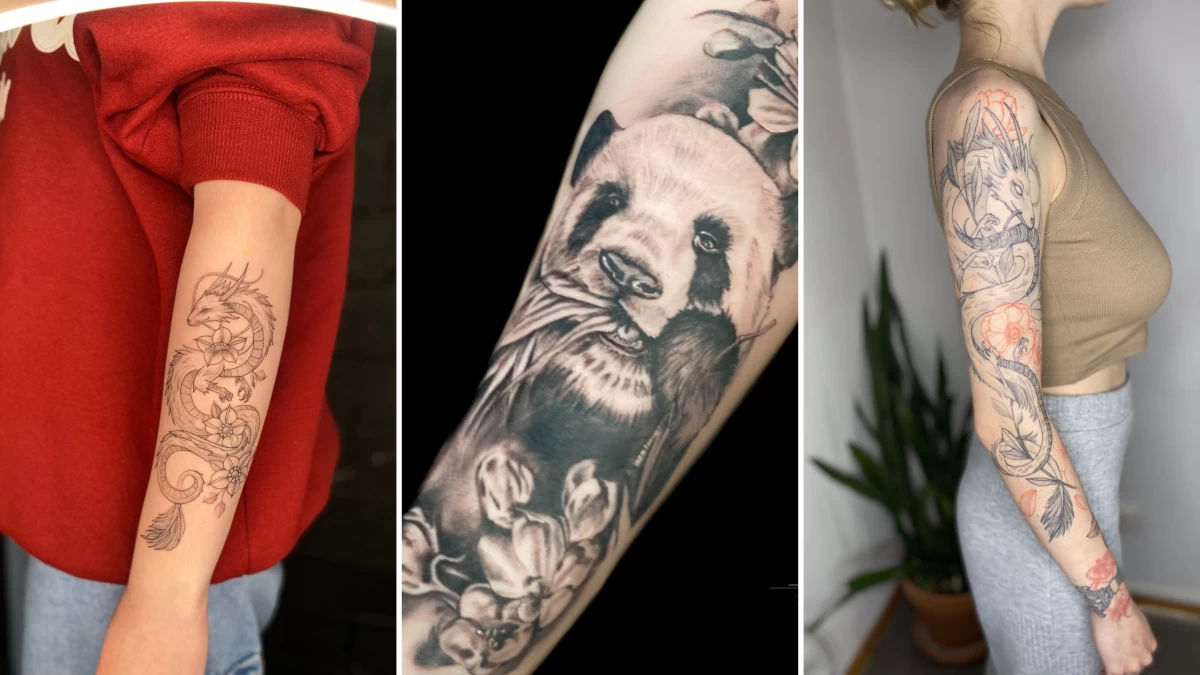 Here are the most popular ones :
Dragon Tattoos ; Power and Protection
Dragon tattoos hold rich symbolism in various cultures and have captivated tattoo enthusiasts for centuries. Here are some common meanings associated with dragon tattoos:
Power and Strength: Dragons are often seen as powerful and mighty creatures, symbolizing strength, courage, and dominance. These tattoos can be a representation of one's inner power and resilience.
Wisdom and Knowledge: Dragons are often depicted as wise and intelligent beings. Dragon tattoos can be chosen to represent wisdom, knowledge, and a deep understanding of the world.
Protection: In many cultures, dragons are believed to be protective guardians. Dragon tattoos can serve as a talisman or symbol of protection, warding off evil spirits and bringing good fortune.
Balance and Harmony: In Eastern cultures, dragons are often seen as symbols of yin and yang, representing the balance between opposing forces. Dragon tattoos can signify the pursuit of harmony and the integration of diverse aspects of life.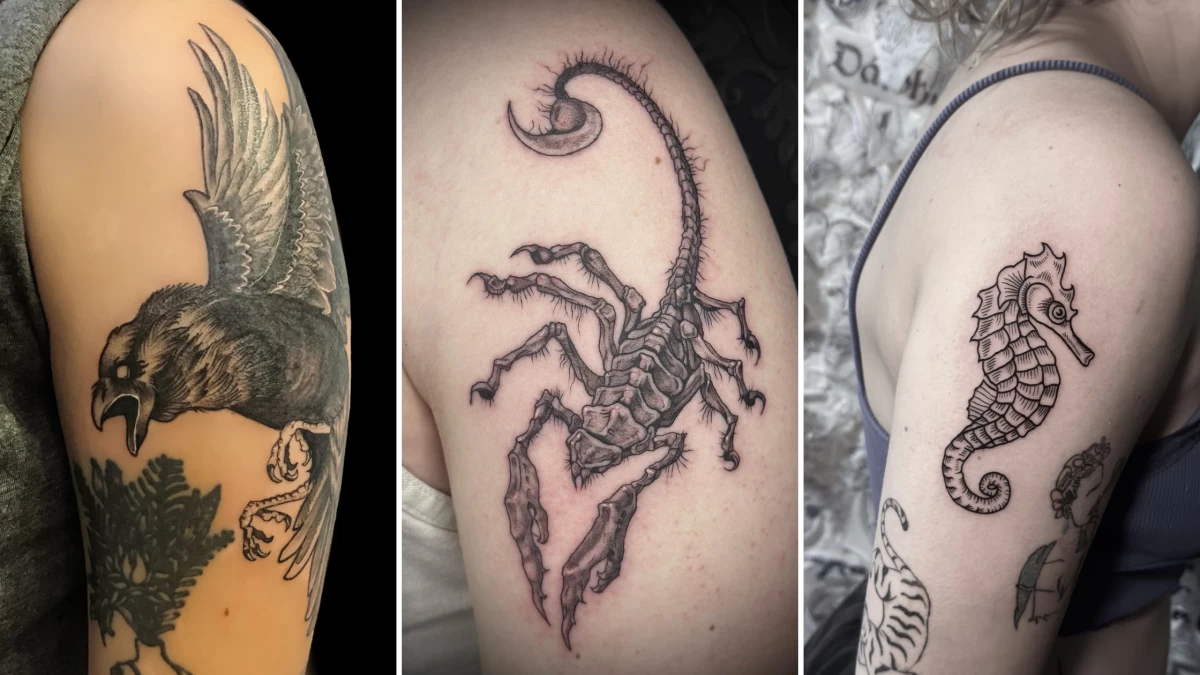 Snake Tattoos; Healing and Wisdom
Snake tattoos carry diverse meanings across cultures and can evoke both positive and negative associations. Here are some common interpretations of snake tattoos:
Transformation and Rebirth: Snakes are known for shedding their skin, symbolizing transformation and rebirth. Snake tattoos can represent personal growth, change, and the shedding of old habits or negative influences.
Healing and Regeneration: In some cultures, snakes are associated with healing and medicinal properties. Snake tattoos can serve as symbols of health, vitality, and rejuvenation.
Knowledge and Wisdom: Snakes are often associated with wisdom and knowledge, particularly in relation to esoteric or mystical practices. Snake tattoos can represent a deep understanding of hidden truths and spiritual awakening.
Dual Nature: Snakes possess both positive and negative qualities in many mythologies. They can represent duality and the coexistence of opposing forces, such as good and evil, light and darkness, or life and death.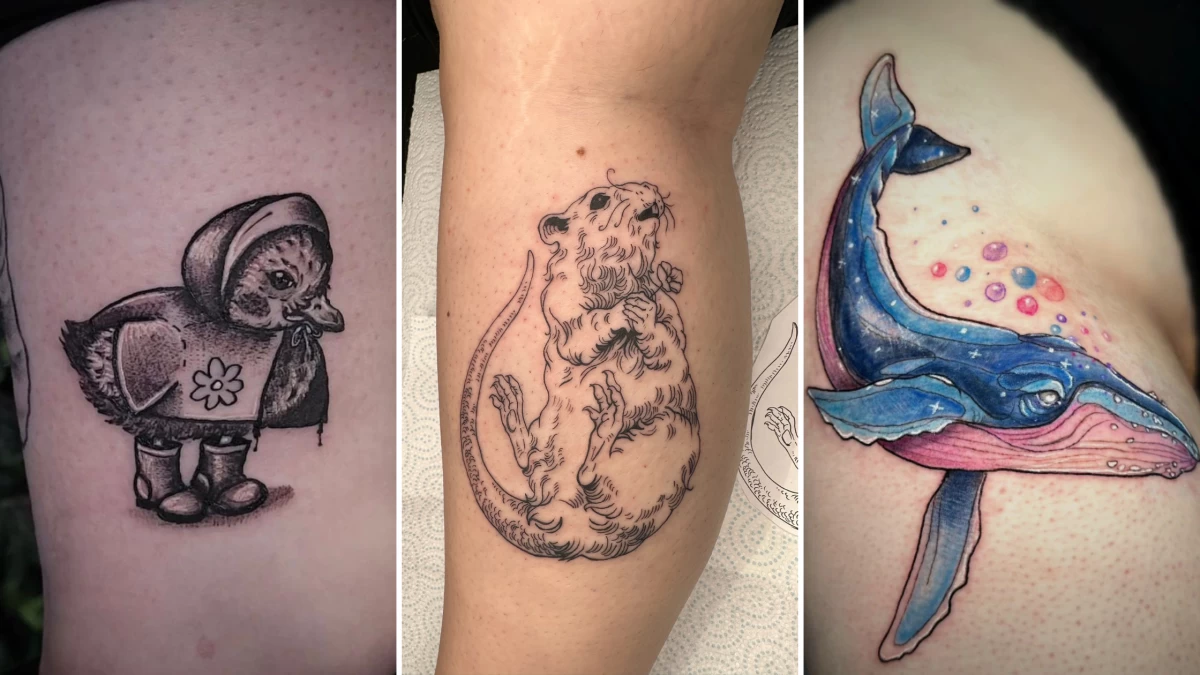 Wolf tattoos ; Loyalty and Power
Wolf tattoos hold various meanings, deeply rooted in different cultures and symbolisms.
Here are some common interpretations associated with wolf tattoos:
Loyalty and Brotherhood: Wolves are known for their strong social bonds and loyalty to their pack. Wolf tattoos can symbolize loyalty, devotion, and the importance of unity and kinship.
Strength and Power: Wolves are apex predators and embody strength, power, and resilience. Wolf tattoos can represent personal strength, determination, and the ability to overcome challenges.
Guardianship and Protection: Wolves are often seen as guardians and protectors. Wolf tattoos can serve as symbols of protection, warding off negative energies and guiding individuals through difficult times.
Instinct and Intuition: Wolves are highly intuitive creatures, relying on their instincts for survival. Wolf tattoos can represent the importance of trusting one's intuition, following inner wisdom, and making decisions based on gut feelings.
Freedom and Independence: Wolves are known for their independent nature and their ability to roam freely. Wolf tattoos can symbolize freedom, individuality, and a desire for personal autonomy.
Spirituality and Mysticism: In some cultures, wolves are associated with spiritual teachings and mysticism. Wolf tattoos can represent a connection to the spiritual realm, inner wisdom, and the exploration of the unknown.
Balance and Harmony: Wolves have a balanced social structure within their packs. Wolf tattoos can symbolize the pursuit of balance, harmony, and the integration of different aspects of life.
Transformation and Adaptability: Wolves are highly adaptable animals, capable of thriving in various environments. Wolf tattoos can represent personal transformation, the ability to adapt to change, and the embrace of new beginnings.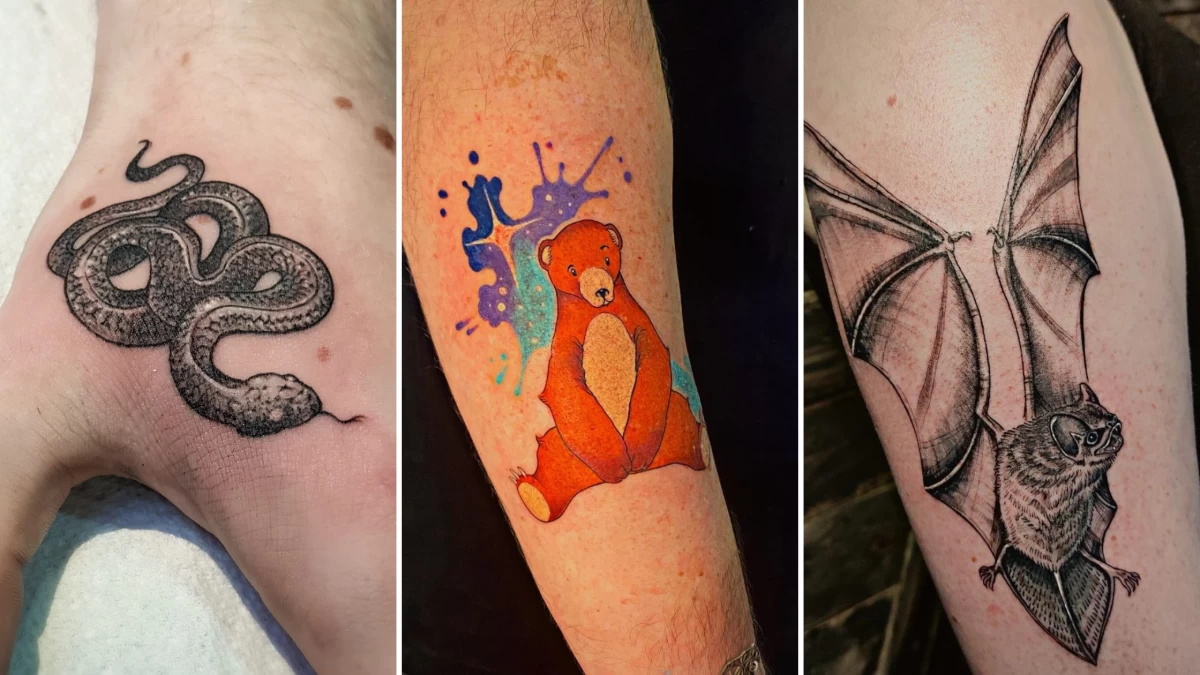 Phoenix Tattoos; Rebirth and Strength at the core.
Phoenix tattoos are deeply symbolic and often associated with themes of resurrection, transformation, and renewal. Here are some meanings commonly associated with phoenix tattoos:
Rebirth and Resurrection: The phoenix is a mythical bird that is believed to rise from its own ashes, symbolizing the cyclical nature of life, death, and rebirth. Phoenix tattoos can represent personal transformation, overcoming challenges, and rising from the ashes stronger than before.
Strength and Resilience: The phoenix is known for its ability to endure and rise above adversity. Phoenix tattoos can serve as reminders of one's inner strength, resilience, and ability to overcome obstacles.
Immortality and Longevity: The phoenix is often associated with immortality and eternal life. Phoenix tattoos can represent a desire for longevity, a connection to the eternal cycle of life, or a tribute to loved ones who have passed away.
Beauty and Grace: The phoenix is often depicted as a majestic and beautiful creature. Phoenix tattoos can symbolize grace, elegance, and the pursuit of beauty in life.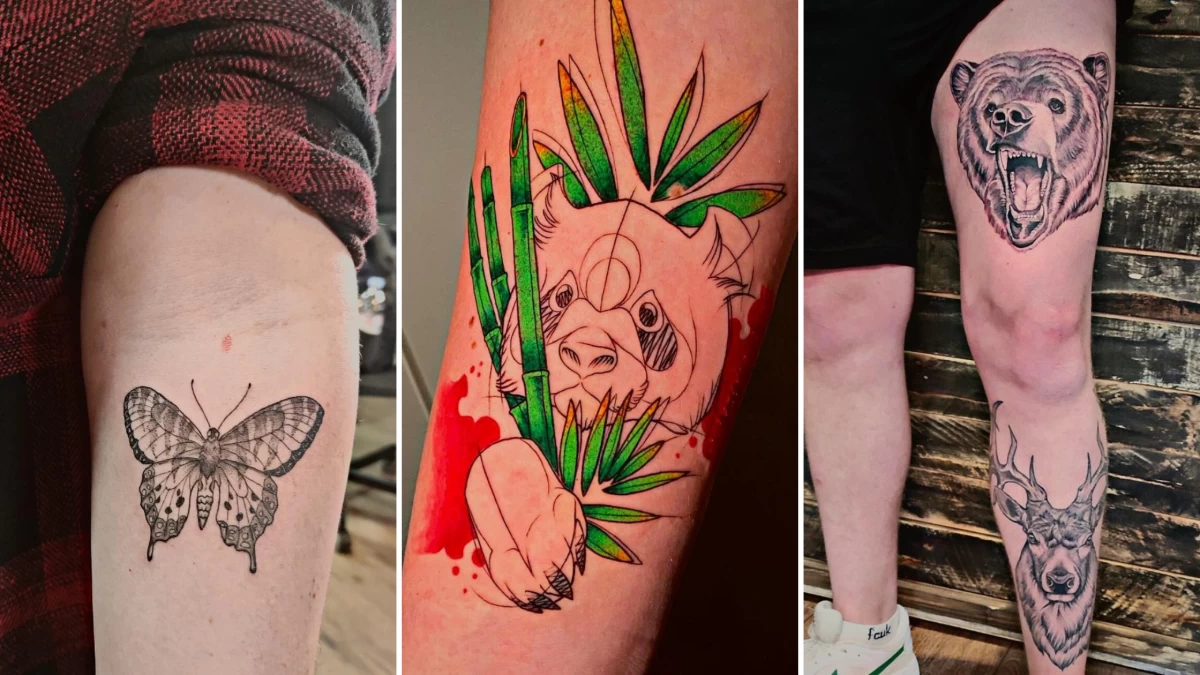 Other Well-Appreciated Animal Tattoo Designs ideas
Regarding animal-themed tattoos, the possibilities are as vast as the animal kingdom itself. Here are some additional popular choices that have stood the test of time:
Majestic Cats
Lions, tigers, and cheetahs exude power, grace, and elegance. These feline creatures make stunning tattoo subjects, often depicted in bold, realistic, or even abstract styles.
Wise Owls
Owls, with their enigmatic gaze and nocturnal nature, has become a popular choice for those seeking wisdom and knowledge. These intricate designs often showcase the owl's captivating eyes and feathers.
Soaring Birds
Birds symbolize freedom, transcendence, and the spirit of flight. From majestic eagles to delicate hummingbirds, bird tattoos capture the beauty and grace of these winged creatures.
Spirit or mystical Animals
Many individuals choose animal designs that resonate with them deeply, spiritually. These "spirit animals" may reflect personal characteristics, beliefs, or a connection with nature.
Marine Life
Octopuses, sharks, and turtles bring the ocean's wonders to life in tattoo art. These marine creatures symbolize adaptability, strength, and deep mysteries.
It's important to note that individual interpretations may vary, and the specific meanings of feline tattoos, mystical animals, or Spiritual tattoos can differ based on personal beliefs, cultural influences, and artistic representation.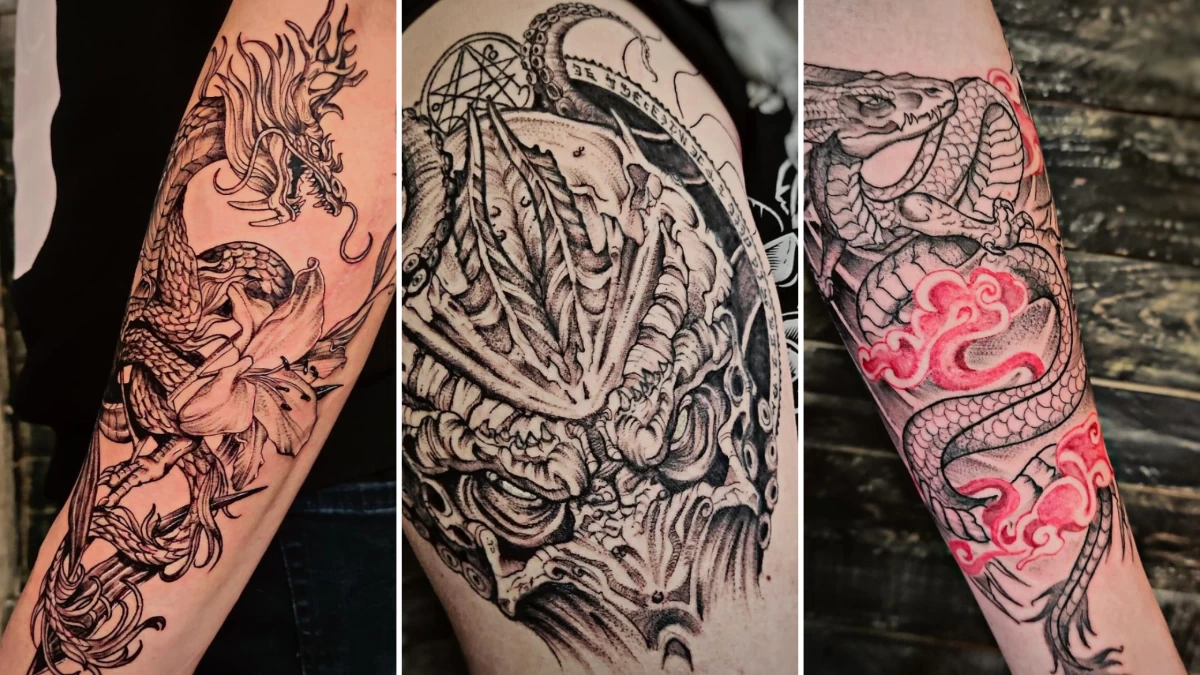 Exploring Creativity and Style of Animal Tattoos
Animal-themed tattoos offer endless creative possibilities, allowing artists and enthusiasts to explore various styles and techniques. Here are some exciting avenues to consider
Realism: Realistic animal tattoos require great skill and attention to detail. The goal is to capture the creature's essence and lifelike features, resulting in stunningly vivid and captivating designs.
Geometric: Geometric animal tattoos combine the allure of the natural world with the precision of geometric shapes. These designs often feature animals crafted with triangles, squares, and other geometric elements, resulting in a unique and eye-catching fusion.
Fusion and Hybrid: For those seeking unconventional designs, animal hybrids or fusions offer an exciting twist. These tattoos combine different animal species or merge animals with mythical creatures, resulting in captivating and imaginative compositions.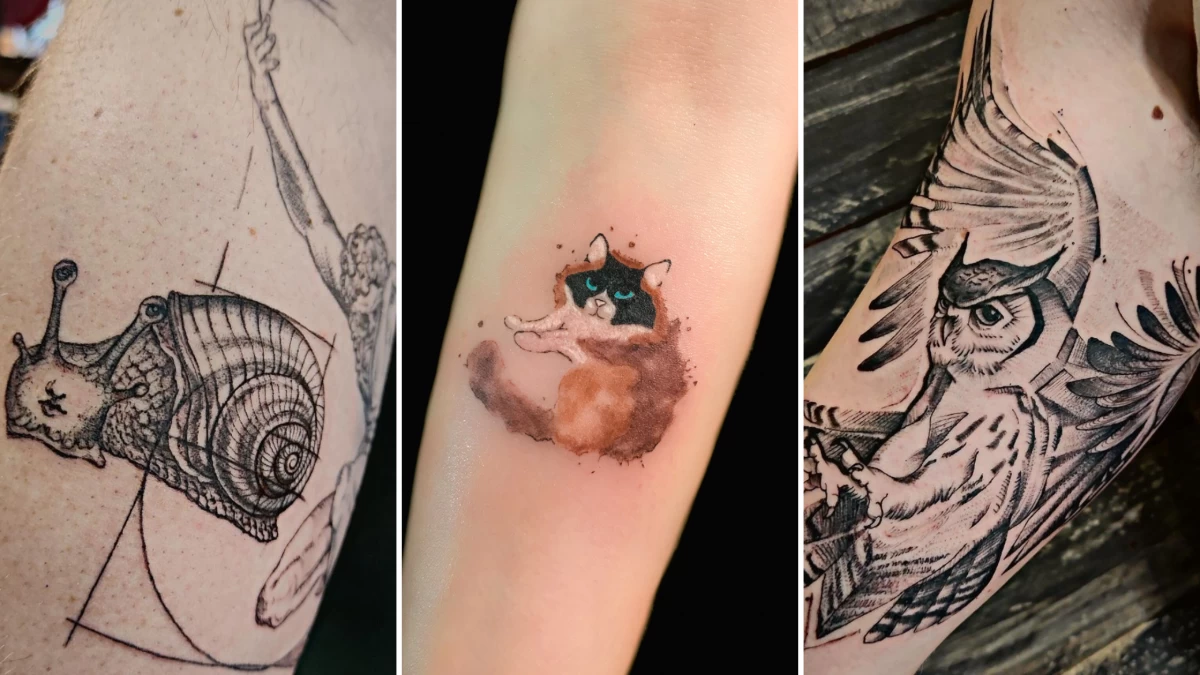 Animal-themed tattoos provide a captivating and diverse world of artistic expression. Whether you seek a powerful symbol, a personal connection, or appreciate the beauty of the animal kingdom, these tattoos offer a meaningful and engaging choice. So, let your imagination run wild and explore the endless possibilities of animal-themed tattoos. Remember, the animal kingdom is vast, and your perfect tattoo awaits in this realm of creativity and symbolism.
Ready to embark on your animal tattoo journey? Visit one of our tattoo studio to consult with our skilled artists and bring your wild ideas to life. Let us help you create a one-of-a-kind animal tattoo that resonates with your spirit and captures the essence of the wild. Unleash your inner beast and embrace the power of animal-themed body art today!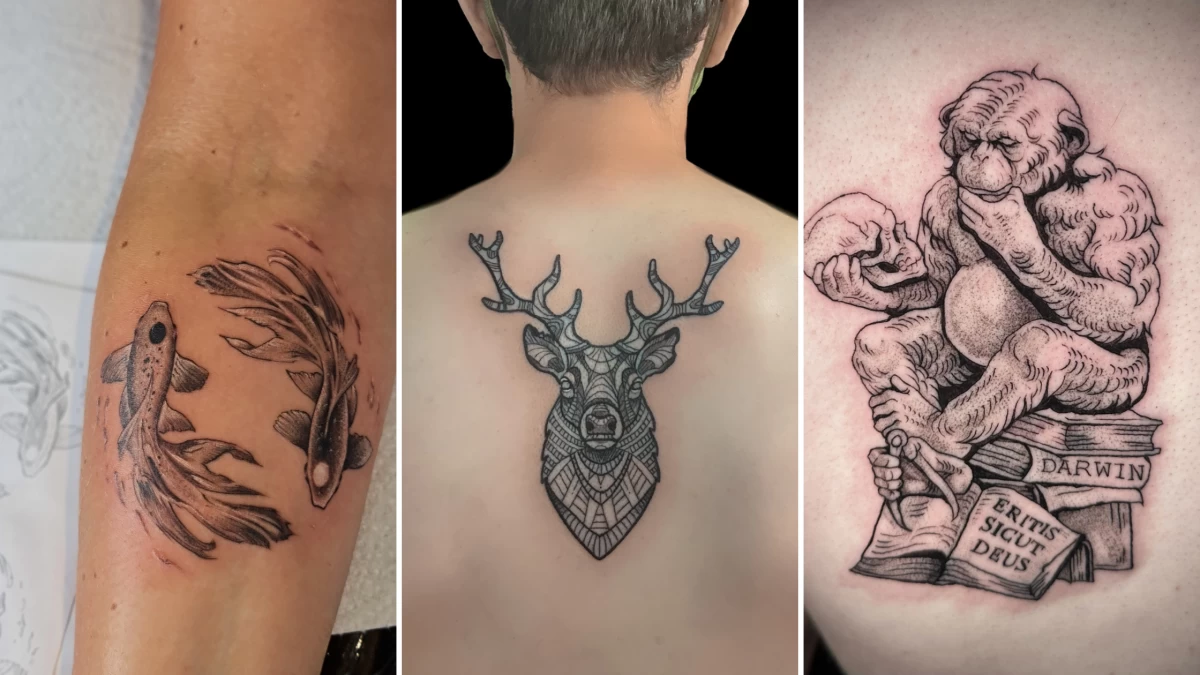 Take a peek at our Tattoo Gallery or Pinterest Board! You're more than welcome to drop by and chat with one of our skilled artists for a free consultation in Dublin.
More Tattoo Gallery :